Call for K12 Transdisciplinary Arts Models, Research Partners
From Mount Vernon Institute For Innovation, Atlanta. Be a part of the conversation as we set forth to design a better world.
SEAD 5 Year Update
After the publication of Steps to an Ecology of Networked Knowledge and Innovation: Enabling New Forms of Collaboration among Sciences, Engineering, Arts, and Design (MIT Press, 2015), collaborators in the SEAD network took note of significant changes since the document's inception and publication, both in its community of practice and beyond. A summary can be found here.
National Academies formal study begins July, 2016
The first meeting to investigate arts and humanities relative to STEM education will be hosted by the National Academies of Sciences, Engineering, and Medicine on July 27-28, 2016. Funded by the Andrew W. Mellon Foundation, the study will examine the value of incorporating curricula and experiences in the arts and humanities–-including history, literature, language, philosophy, and the arts-–into college and university STEM education and workforce training programs, and understanding whether and how these experiences: 1) prepare STEM students and workers to be more effective communicators, critical thinkers, problem-solvers and leaders; and 2) prepare STEM graduates to be more creative and effective scientists, engineers, technologists and health care providers. The Academies also hope to examine the value of integrating more STEM curricula and experiences into the academic programs of students who are majoring in the humanities, arts and related disciplines. One long-term goal is to understand whether and how a more integrated liberal arts curriculum can better prepare students for success as both citizens and workers, and help prepare them to responsibly address the most compelling grand challenges facing our society, such as global stewardship, health care for our youngest and oldest citizens, and gene editing. At a workshop in Washington DC, December 2, 2015, NAS declared the study underway. The duration is expected to be 24 months. This initiative is chaired by Thomas Rudin, Director, Board on Higher Education and Workforce, National Academies of Sciences, Engineering, and Medicine. The committee is chaired by Dr. David Skorton, Secretary of the Smithsonian.
Keck Futures awards $1 million for collaborative projects
In November 2015, the National Academies Keck Futures Initiative "Conference on Art and Science, Engineering, and Medicine Frontier Collaborations: Ideation, Translation & Realization" gathered a diverse group of participants to explore how arts, design, sciences, engineering, and medicine can stimulate a renaissance of innovation. It was the first time artists and designers were invited to join the Keck Futures conference, in a think-tank format addressing global challenges. 11 seed grants were awarded to support interdisciplinary projects related to art and science, engineering, and medicine frontier collaborations.
SEAD at Career Issues in Art and Design Conference 2016
The Career Issues in Art and Design Conference, hosted by Parsons School of Design at The New School, addressed future directions for underserved creatives. SEAD network participant Robert Thill led a session presenting SEAD's goals and advocacy, discussing opportunities and challenges in transdisciplinary practices, and seeking recommendations for inclusive SEAD exemplars. Attendees were comprised of representatives in a variety of roles at research universities, independent colleges of art and design, and liberal arts colleges. For more information, including the agenda and contextual reports, see the conference website.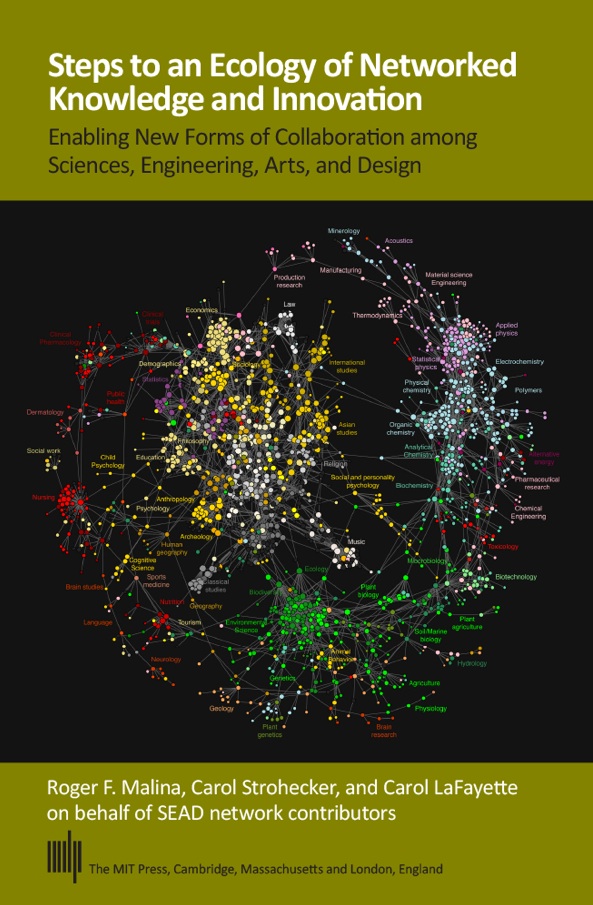 SEAD White Papers synthesis report
In 2012, SEAD launched a White Papers initiative to build community awareness of perceived challenges and opportunities for transdisciplinary collaboration. The synthesis report, Steps to an Ecology of Networked Knowledge and Innovation, offers a set of "action clusters" common to texts from the international response by SEAD members. Suggested Actions are structured according to similarities of motivation and purpose, and addressed to specific stakeholders. The synthesis report is published by MIT Press / ISAST with a Creative Commons license. The SEAD White Papers initiative was chaired by Roger Malina and co-chaired by Carol Strohecker, with the assistance of an international Steering Group and coordination by Carol LaFayette and Amy Ione, Managing Editor.