National Academies 2015 Keck Futures Initiative on art, science, medicine, and engineering
The National Academies Keck Futures Initiative "Conference on Art and Science, Engineering, and Medicine Frontier Collaborations: Ideation, Translation & Realization" will gather a diverse group of participants to explore how arts, design, sciences, engineering, and medicine can stimulate a renaissance of innovation that solves real-world problems; discover how collaborations can engage the public and other scientists and encourage discourse in important issues; examine how creative disruption and aesthetic experience engage the human mind to stimulate creativity and innovation; and create concrete projects that can (and ultimately do) lead to at least one of four kinds of impact – educational, cultural, social and scientific. SEAD network dialog has contributed to this upcoming event in Irvine, November, that can lead to new research initiatives by the Academies.
SEAD Chairs to Present at the College Art Association
Conference 2016
Cultivating an Ecology of Networked Knowledge and Innovation through Collaborations
among Sciences, Engineering, Arts, and Design

Roger F. Malina, The University of Texas at Dallas; and Carol Strohecker, Rhode Island School of Design
Successful collaborations among scientists, engineers, artists, designers, and humanities researchers are demonstrating their potential to mitigate the challenging societal, economic, and cultural concerns of our times, known as "grand challenges." A growing network of transdisciplinary collaborators, SEAD, is premised on the assertion that solving complex problems requires multiple perspectives. This CAA session will convene members of the SEAD network and invite new voices to discuss the four areas of advocacy identified in the network's statement of purpose: culture and economic development, research and creative work, learning and education, and collaboration and partnership. Session participants will consider this framing for advocacy and suggest specific actions to further enable such cross-cutting work. Outcomes of the SEAD White Paper initiative will inform the discussion, referencing research by 200 contributors globally that became the basis of a NSF-funded report and an MIT Press e-book. While the session is not seeking papers, the chairs encourage the SEAD network to attend the conference to participate in the discussion.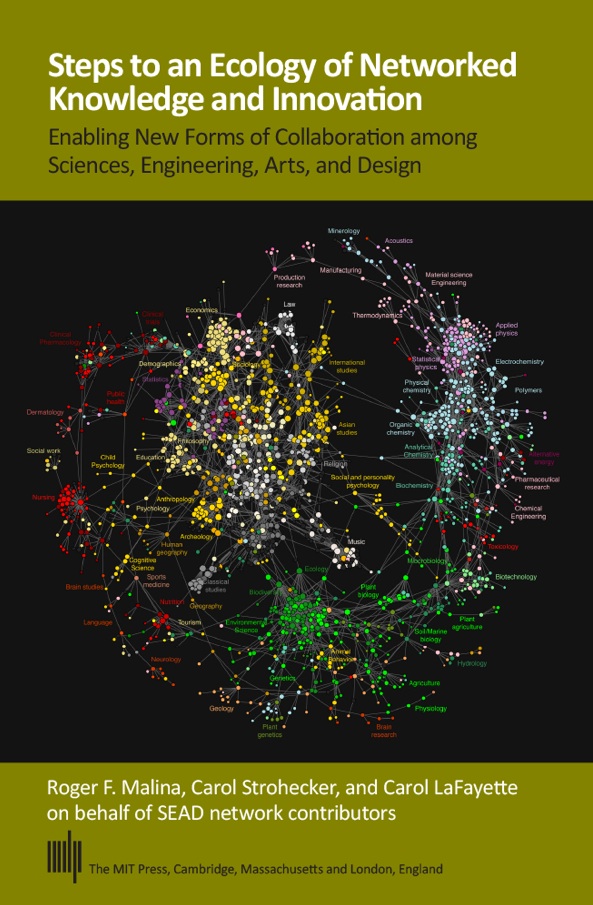 SEAD White Papers Synthesis Report published
In 2012, SEAD launched a White Papers initiative to build community awareness of perceived challenges and opportunities for transdisciplinary collaboration. The synthesis report, Steps to an Ecology of Networked Knowledge and Innovation, offers a set of "action clusters" common to texts from the international response by SEAD members. Suggested Actions are structured according to similarities of motivation and purpose, and addressed to specific stakeholders. The synthesis report is published by MIT Press / ISAST with a Creative Commons license. The SEAD White Papers initiative was chaired by Roger Malina and co-chaired by Carol Strohecker, with the assistance of an international Steering Group and coordination by Carol LaFayette and Amy Ione, Managing Editor. The report will be published as an e-book this year, with images from SEAD collaborators and links to all White Papers contributions. The draft report is available here.

ICT ARTS CNECT Study and Round table events
A study by ICT Arts Connect in the EU closely parallels the SEAD White Papers report. The study was first presented at BOZAR Electronic Arts Symposium in Brussels. In attendance were Carol Strohecker, Ph.D., SEAD coPI, and Bill O'Brien, Senior Advisor for Program Innovation, National Endowment for the Arts. Past activities on the contributions of artistic practices to innovative ICT developments demonstrated the worldwide emergence of communities of hybrid researchers. These researchers develop new technological applications responding to specificities of artistic creativity, creating potential for innovation outside the original scope. The recognition of these emergences by the European Commission led to the launching of the ICT ART CNECT study, in order to characterize and connect artistic communities of ICT researchers at all levels, including institutions, companies and individuals. The study is creating a map of individuals and institutions engaged in artistic practices within ICT research projects in Europe and world-wide. It will analyse best practices to enhance interaction between artists-researchers and other IT experts and to increase the impact of these interactions on innovation and creativity in Europe. It will not only analyse success stories but also it will identify primary needs and demands. ICT ART CNECT is organizing a number of round-tables in the most relevant conferences in the field happening this year: 4th Computer Art Congress, 1-3 September, Rio de Janeiro, Brazil; Ars Electronica, 4-8 September, Linz, Austria and ArtsIT - Fourth International Conference on Arts and Technology, 10-12 November, Istanbul, Turkey. Read more...


SEAD White Papers authors at Yokohama Conference
Fostering Trans-Disciplinarity amongst the Social and Natural Sciences, Engineering, Arts and Design, July 2014, at the XVIII World Conference of Sociology, Yokohama, Japan. In a session led by Benjamín Tejerina Montana and Cristina Miranda de Almeida, authors will present the results of the Open Call for White Papers received from 24 countries. They willl summarize a meta-view of needs, opportunities and recommendations concerning trans-disciplinary collaboration in the confluence of the Sciences, Engineering, Arts and Design. The session invites inquiry from other researchers.In addition to presenting a first set of pre-selected papers that focus on different models and case-studies for trans-disciplinarity in research and in creative practice, the session will welcome new papers. Read more...


Media Systems workshop videos
Media Systems led by PI Noah Wardrip-Fruin, seeks to catalyze major progress in how we create and understand the computational systems that drive interactive media. The Media Systems workshop convened a set of field leaders who have been working across the boundaries of media-focused computer science, the digital humanities, and the digital arts. This was supported by an unprecedented group of partners: the National Science Foundation, National Endowment for the Humanities, National Endowment for the Arts, and both Microsoft Research and Microsoft Studios. Speakers included Ian Horswill, Nick Montfort, Ian Bogost, Mary Lou Maher, Anne Balsamo, and Fox Harrell. See the blog...