National Science Foundation, Grant No. 1142510, IIS, Human Centered Computing.
You are here: Home > About > People > Barbara Cutler
Barbara Cutler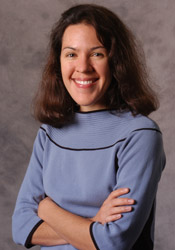 Associate Professor, Department of Computer Science; Affiliated Faculty, Curtis R. Priem Experimental Media and Performing Arts Center (EMPAC); Rensselaer Polytechnic Institute
website
Barbara Cutler is an Associate Professor in the Computer Science Department and an EMPAC Affiliated Faculty member at Rensselaer Polytechnic Institute. Her research interests include computer graphics, geometry processing, visualization, and design tools for architecture. Previously she was a student and then a Post-Doctoral Lecturer at MIT in the Department of Electrical Engineering and Computer Science, doing research in the Computer Graphics Group, which is part of the Computer Science and Artificial Intelligence Laboratory (CSAIL).
Highlighted project
Barbara and her collaborators present a system for dynamic projection on large, human-scale, moving projection screens and demonstrating this system for immersive visualization applications in several fields. They have designed and implemented efficient, low-cost methods for robust tracking of projection surfaces, and a method to provide high frame-rate output for computationally-intensive, low frame-rate applications. Collaborators present a distributed rendering environment, which allows many projectors to work together to illuminate the projection surfaces. This physically immersive visualization environment promotes innovation and creativity in design and analysis applications and facilitates exploration of alternative visualization styles and modes. The system provides for multiple participants to interact in a shared environment in a natural manner. The humanscale user interface is intuitive and novice users require essentially no instruction to operate the visualization.
Work environment and institutional setting
In addition to generic office space for herself and her students, Barbara has a 15'x15'x 9' high lab with a table-top "spatially augmented reality" system with 6 projectors and several high end computers & GPUs. She also regularly schedules (about 1 week every 6-9 months) research and development residencies in EMPAC, to work with full-scale immersive versions of our table-top visualization environment.