You are here: Home > About > People > Donna Cox
Donna Cox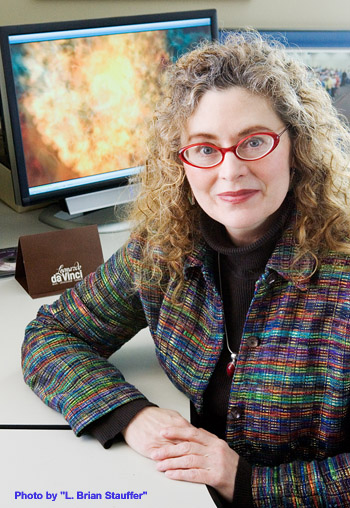 XSEAD Co-PI; Michael Aiken Endowed Chair; Director, eDREAM Institute; Steering Committee, Director,
Advanced Scientific Visualization Laboratory, University of Illinois, Urbana-Champaign
website 1
website 2
website 3
Donna J. Cox, MFA, PhD, is the first Michael Aiken Chair, Director of the Advanced Visualization Laboratory (AVL) at the National Center for Supercomputing Applications, and Director of the Illinois eDream Institute, University of Illinois at Urbana-Champaign. She is a recognized pioneer in Renaissance Teams and supercomputer visualizations for public outreach (visaphors). She and her collaborators have thrilled millions with cinematic science and virtual tours through astrophysics, atmospheric science, oceanography, mathematics and other data domains in science educational productions that include high-definition television, digital Museum exhibits and planetarium shows, and IMAX movies. They have collaborated on public outreach with the American Museum of Natural History, California Academy of Science, Denver Museum of Nature and Science and Chicago's Adler Planetarium. Cox was Art Director and Producer for Scientific Visualization for the science educational IMAX film "Cosmic Voyage," nominated for 1997 Academy Award and funded by National Science Foundation, Smithsonian Institute, and the Motorola Foundation. The Chicago Museum of Science and Industry selected Donna Cox as one of 40 modern Leonardo DaVinci's. She was SIGGRAPH Director at large for four years and SIGGRAPH 2005 Emerging Technologies Chair. She is currently on the Editorial Board of Leonardo. As Director of the eDream Institute, she is working with Illinois campus leadership to build a new interdisciplinary academic research and education program.
Highlighted project
Members of the Illinois Emerging Digital Research and Education in Arts Media Institute (eDream) and the Advanced Visualization Laboratory (AVL) at the National Center for Supercomputing Applications (NCSA) collaborated with Obie-winning experimental filmmaker Bill Morrison on "The Great Flood," a 75-minute multimedia work of original music and film inspired by the 1927 Mississippi River floods, creating data-driven visualizations of the Mississippi River Valley showing the extent of the destructive floodwaters. PopSci, the online arm of Popular Science magazine, highlights cinematic aspects in the work of the Advanced Visualization Lab. In his article, Clay Dillow, features AVL's unique combinaton of science and art: "Those productions aren't born simply of creativity but of complex computational science, and at that intersection the AVL has found a comfortable role. Tapping the supercomputing power at its disposal at the University of Illinois' National Center for Supercomputing Applications (the mythical birthplace of HAL 9000), the AVL can make sense of massive data sets that others cannot, making it among the best in the world at turning complex data into science-driven cinematic art."
Work environment and institutional setting
The National Center for Supercomputing Applications (NCSA) at University of Illinois is one of the most recognized leaders in high-performance computing and advanced visualization. NCSA was the birthplace of Mosaic, the first internet browser. It is currently the home of eDream Institute.