National Science Foundation, Grant No. 1142510, IIS, Human Centered Computing.
You are here: Home > About > People > Gunalan Nadarajan
Gunalan Nadarajan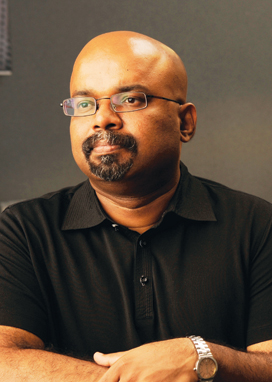 SEAD Co-PI; Dean & Professor, School of Art and Design, University of Michigan
website
Gunalan Nadarajan, an art theorist and curator, is Vice Provost for Research and Graduate Studies at MICA (Maryland Institute College of Arts). Prior to joining MICA, Gunalan was Professor of Art and Associate Dean for Research and Graduate Studies at the College of Arts and Architecture, Penn State University. His publications include Ambulations (2000), Construction Site (edited; 2004) and Contemporary Art in Singapore (co-authored; 2007), Place Studies in Art, Media, Science and Technology: Historical Investigations on the Sites and Migration of Knowledge (co-edited; 2009) and The Handbook of Visual Culture (co edited; 2010) and over 100 book chapters, catalogue essays and academic articles. His writings have been translated into Mandarin, Indonesian, Korean, Japanese, French, German, Italian, Romanian, Serbian, Russian, Polish, Portuguese and Spanish. Gunalan has curated twenty international exhibitions including Ambulations (Singapore), 180KG (Jogjakarta), Negotiating Spaces (Auckland) media city 2002 (Seoul) and DenseLocal (Mexico City). He was contributing curator for Documenta XI (Kassel, Germany), the Singapore Biennale (2006) and served on the jury of a number of international exhibitions, such as ISEA 2004 (Helsinki/Talinn), transmediale' 05 (Berlin), ISEA 2006 (San Jose) and FutureEverything Festival (Manchester). He was Artistic Co-Director of the Ogaki Biennale 2006, an international exhibition of media arts in Japan and Artistic Director of ISEA2008 (International Symposium on Electronic Art) in Singapore. In 2004, he was elected Fellow of the Royal Society of Art.
Highlighted project
Currently, Gunalan is completing research and writing on a manuscript on the interactions and tensions between biology and machines in the histories of arts and science. He is also working on an art/science exhibition that explores the relationships between religion and technology.