You are here: Home > About > People > Noah Wardrip-Fruin
Noah Wardrip-Fruin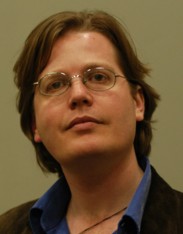 Associate Professor, Computer Science; Co-Director, Expressive Intelligence Studio, Baskin School of Engineering; Director, Playable Media group, Digital Arts and New Media program,
University of California Santa Cruz (UCSC)
website
Noah Wardrip-Fruin co-directs the Expressive Intelligence Studio, one of the world's largest technical research groups focused on games. He also directs the Playable Media group in UCSC's Digital Arts and New Media program. Noah's research areas include new models of storytelling in games, how games express ideas through play, and how games can help broaden understanding of the power of computation. Noah has authored or co-edited five books on games and digital media for the MIT Press, including The New Media Reader (2003), a book influential in the development of interdisciplinary digital media curricula. His most recent book, Expressive Processing: Digital Fictions, Computer Games, and Software Studies was published by MIT in 2009. Noah's collaborative playable media projects, including Screen and Talking Cure, have been presented by major museums and a wide variety of festivals and conferences. He is a member of the Board of Directors of the Electronic Literature Organization. Noah holds both a Ph.D. (2006) and an MFA (2003) from Brown University.
Highlighted project
Prom Week, slated for release in 2011, will be the first example of a new type of game focused on dynamic social relationships between characters. It is the result of novel AI system development and a series of game design experiments, carried out specifically to inform and enable each other. The result is a game about the high-drama week leading up to a high school prom. The player chooses one character's story as the focus for each playthrough, but can initiate "social moves" (coordinated multi-character interactions) between any set of characters. However, the characters are only willing to take those actions that follow the normal rules of high school media; the player must be careful and clever to get them to break out of their molds. Prom Week is a collaborative project with faculty member Michael Mateas and students Josh McCoy, Mike Treanor, Ben Samuel, Aaron Reed and others.
Work environment and institutional setting
Noah works at the University of California Santa Cruz, a campus that has a long history of creating and supporting interdisciplinary work environments. He is a full-time faculty member in Computer Science, in the Engineering division, but he is one of five faculty in that department specifically focused on issues of media creation and expression. He also runs a group in the interdisciplinary Digital Arts and New Media MFA program, which is in the process of becoming a department in the Arts division. He works regularly with ~20 PhD students and ~5 MFA students -- encouraging them to pursue collaborative projects together and also work with undergraduates. He sponsors ~30 project-focused independent studies for undergraduates each year.