You are here: Home > About > People > Sabrina Raff
Sabrina Raff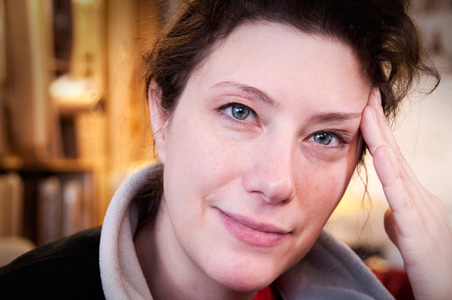 Associate Professor, School of Art and Design, University of Illinois, Chicago
website
Sabrina Raaf, a Chicago-based artist, experiments in mechanized sculptural media and designs responsive environments and social spaces. Her work has been presented in solo and group exhibitions at the ZERO1 Biennial (2011, San Jose), Brandts Art Center (Denmark), Transitio_MX (Mexico City), Sala Parpalló (Spain), MejanLabs (Stockholm), Lawimore Projects (Seattle), the Edith-Russ-Site for Media Art (Germany), Stefan Stux Gallery (NYC), Ars Electronica (Linz), Museum Tinguely(Basel), Espace Landowski (Paris), Kunsthaus Graz (Austria), and ISEA 2004 (Helsinki). She was the recipient of a Creative Capital Grant in Emerging Fields (2002) and an Illinois Arts Council Fellowship (2005 & 2001). Reviews of her work have appeared in Art in America, Contemporary, Chicago Tribune Sunday Magazine, Leonardo, The Washington Post, and New Art Examiner. She received an MFA in Art and Technology from the School of the Art Institute of Chicago (1999) and is currently an Associate Professor in the School of Art and Design at the University of Illinois at Chicago.
Highlighted project
Pronounced "enfold," (n)-fold is both a flat-foldable structure and a functional object. As illustrated in the following video, the (n)fold form may serve as modular housing for several potential functions: for dew harvesting, for solar cooking, as a solar charging station, as well as an automated screen for shading building facades. The origami-inspired form is designed in such a way as to be able to minimize both the packaging profile and the material weight of each module. It can be scaled down for use by the nomadic traveler or up to create modular, interactive environments. The flat-packable (n)-fold form and its series of applications are currently in the prototyping stage.
Work environment and institutional setting
Solidly grounded in an interdisciplinary approach to the visual arts, the School of Art in the College of Architecture and the Arts at UIC is deeply rooted in the concepts of theory and practice. The School of Art, one of the most highly regarded art programs in Chicago and the nation, offers Bachelor of Arts (B.A.) and Master of Fine Arts (M.F.A.) across Studio Arts (painting, drawing, sculpture, performance), Photography, Moving Image (film, video) and New Media. The School of Art is uniquely situated within one of the greatest urban research institutions in the country. While students may choose to focus within one particular area, they are encouraged to push the boundaries of their chosen medium and to reach across media-specific boundaries into new forms of art making. New efforts in the School address issues of new media and ecology, making connections with research in industrial design, engineering and medical applications. Individual research and exploration is complimented by collaborative/interdisciplinary and public outreach projects. The program offers a unique intellectual environment in which exchange and dialogue across disciplinary boundaries within art history and between art practitioners, historians and critics, is openly encouraged. It is this conversational model that sets the arts at UIC apart.